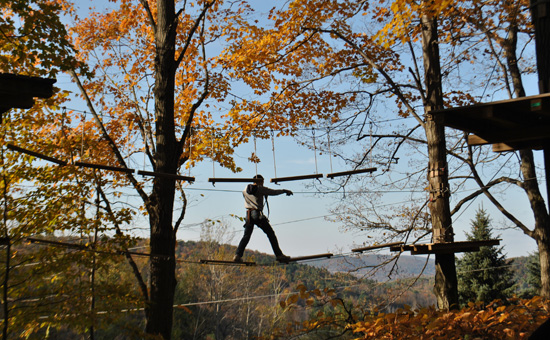 Catamount Aerial Adventure Park
3290 State HWY 23
Hillsdale
,
NY
12529
Our park is an exciting aerial forest adventure that provides a variety of courses that are fun for all ability levels.
After participants are fitted with harnesses, they are led through a safety and park usage demonstration, fitted with gloves and are then free to navigate their chosen treetop courses.
With twelve courses of varying difficulties (think ski trails; yellow, green, blue, black and double black), you are challenged to cross bridges, climb ladders, obstacles and zip lines. The park is built to meet the standards of the Association of Challenge Course Technology (ACCT).
For ages 7 and up...teens...adults....seniors (suggested minimum height is 48", maximum weight is 265 pounds)
No previous experience is needed
12 separate courses and over 170 platforms - including a new "Green Rapids" zip line course opening soon for all ages!!
Over 50 zip lines
2 courses feature 2000' of zip lines each
2012 Schedule
Spring Season: Opening Day to June 10: Saturdays, Sundays and Memorial Day ONLY
Summer Season: June 16 to September 3: Daily
Fall Season: September 8 to October 28: Saturdays and Sundays and Columbus Day ONLY
Daily schedules are subject to change due to weather. For groups of 20 or more with reservations, the park can open on weekdays during Spring and Fall seasons.
What is an Aerial Adventure Park?
In a 10 acre wooded setting near the base of the ski area, the CAAP is an aerial forest challenge park consisting of over 170 platforms installed in the trees and connected by various configurations of cable, wood, rope and zip lines to form bridges. There are 12 separate and distinct courses in the park with varying degrees of difficulty. The CAAP is not a Theme Park but the theme of the CAAP is ALWAYS ATTACHED. Safety comes first and the fun and excitement will come naturally. The CAAP is all about active participation as there are no motorized rides in the park.
The courses are designed from easier to expert and designated as Yellow, Green, Blue, Black and Double Black similar to ski trails. As one progresses through the park, the bridges become less stable under your feet requiring more balance, agility, focus and arm strength. Your time in the park is not a heart pumping activity and you do not have to be a body builder to make it through the courses. Ages 7 to teens to adults to seniors find their comfort zone and seek greater challenges. There is not a correct way of crossing the bridges, however we leave it up to you to figure out the most efficient way of getting from platform to platform.
Other than park rules, the only requirement we have is that your harness is always attached to the safety lines between each platform. At no point on a course should your harness be unattached or removed. At least one caribiner (a high tech clip on your harness lanyard) must be attached to a safety line at all times. Your time here is all about thrills and chills, but no spills.

Visit www.CatamountTrees.com for more information!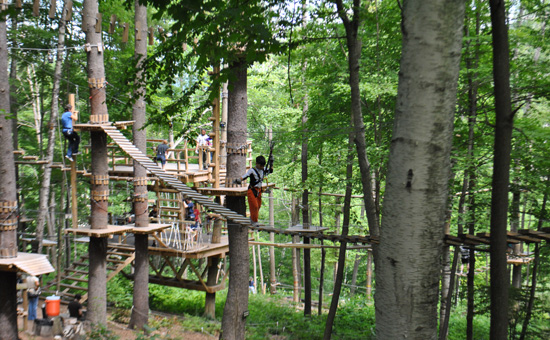 Click on the thumbnail images to see the larger version








Print More Information
Always get confirmation of the business location.
No events listed for this business.
Is this your business? If so, login to add your events!