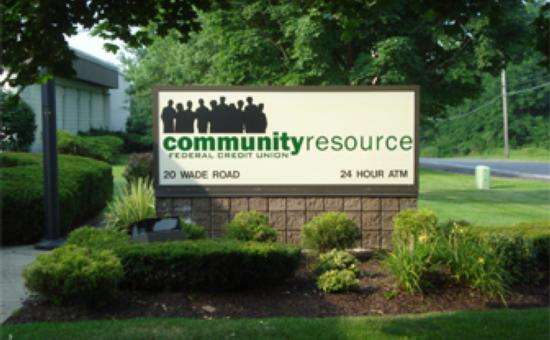 Community Resource Federal Credit Union
20 Wade Road
Latham
,
NY
121103519
Community Resource Federal Credit Union is a community credit union open to anyone who lives, works, worships or attends school in Albany County and their relatives.
Community Resource offers:
Friendly Service. Our goal is member satisfaction. When you open a savings account at Community Resource, you become an owner with say in how the Credit Union is run.
Low Fees. You'll save money when you use Community Resource's products because our fees are lower than other financial institutions.
Low Cost Loans. Community Resource offers excellent rates on loans, especially car loans for purchasing or refinancing. In fact, you could save thousands of dollars by refinancing your car loan with us. Our loan rates are based upon your credit score. So, you'll get our best rate if you have excellent credit. However, we work with people who have some credit problems too. For example, we offer a credit builder loan, secured loans and free financial counseling to help members improve their financial situations.
High Yielding Savings Accounts. We offer Money Market Accounts, CDs and IRAs for your savings needs. Unlike investment company accounts, you'll never have to worry about losing your principal investment. And, Community Resource savings accounts are insured up to $250,000 by the National Credit Union Administration, a federal government agency.
Convenient Access. There are many convenient ways to access your accounts including shared branching, online banking, ATMs, deposits with your ATM card at Price Chopper, our audio response telephone system, and more! Our main office is centrally located in Latham off Wade Road. We operate a full-service office with drive-up window, 24-hour drive up ATM and night depository.
We've been operating in the Capital District for over 75 years. Come see why we're the friendly place to bank!
Coupons & Specials
Community Resource Federal Credit Union Coupons & Specials
Get $50 Cash for Refinancing Your Car Loan
Refinance your car loan and you could save thousands of dollars. In fact, the average person saves $2,311 (based on account history in 2011).
Plus, there are other benefits:
- $50 cash back
- Additional loan discounts for automatic payment and/or checking accounts
- 100% financing
- No application fees or prepayment penalties
- Flexible terms.
For questions, call (518) 783-2211 or email loans@communityresource.coop.
Expires: No expiration Date
Code: Albany.com-1424

(* Minimum balance of $5,000 required. Subject to credit approval. Cannot be combined with other offers. Subject to change without notice.)

View/Print coupon
Call now (518) 783-2211
Upcoming Events
When: Sat, Oct 17, 2015 at 6:30 PM to 9:00 PM
Where: Community Resource Federal Credit Union
Wind through hallowed halls of our Haunted Asylum at our 20 Wade Road, Latham office. All proceeds are for charity. Free refreshments! May be too scary for young children.
When: Sat, Dec 5, 2015 at 12:00 PM to 3:00 PM
Where: Community Resource Federal Credit Union
Stop by our 20 Wade Road, Latham office to have your pet photographed with Santa. All proceeds benefit Mohawk Hudson Humane Society. Partial photography services donated by Shawn Morgan Photography.
Directions & Map
Always get confirmation of the business location.