Scrapster is the Capital Regions premier NO COST scrap metal pickup and recycling service. We cover a 50 mile radius around Albany, NY, including Bennington, VT and western Massachusetts. Quality same day service when needed, convenient and reliable.
Please call us today to schedule an appointment or with any questions at (518) 505-5055 or toll free at (888) 523-8523 and ask for Vince.
Everything is properly recycled, disposed of or donated. We can provide proof of insurance when required on your project and we will add you to our General Liability policy as an Additional Insured when requested.
What types of metal do we take?: Steel, stainless steel, cast iron, tin (thinner gauge steel), galvanized, copper, brass, copper/brass mix, aluminum, copper wire, aluminum wire, lead or aluminum/steel mix.
Some examples of items we pick up on a daily basis are: appliances (*see details below), pipe, lawn tractors, lawn mowers, snowblowers, car and truck parts, motors/engines, bikes, radiators, baseboard heating, fencing, gutters, siding, sheds, angle iron, I-beams, roofing, outdoor grills, yard and shop tools, cans, etc. PLUS computers, printers, copy machines and computer monitors. We also can take away old car and truck batteries, large or small.
Standard appliances* include: gas and electric water heaters, boilers, dryers, heaters or stoves, furnaces, refrigerators, freezers, dishwashers, microwave ovens, washing machines, air conditioners, humidifiers and dehumidifiers, etc. In addition we can take any corded household appliance, large or small, such as lamps or lights, vacuum cleaners, clothes irons, stereo equipment, etc.
Other Scrapster services include:
*Affordable fee based general hauling (old furniture, mattresses, yard waste, household items and garbage).
*Tire removal and recycling...$4 each for standard size car and truck tires or $10 for larger tires. Discounts apply for quantity transactions.
It's really free? YES, it's free, because you should never have to pay for scrap metal pickup. However, please note that if scrap removal requires extensive demolition before any metal can be taken away that there may be a reasonable fee involved. An example would be where torches were required to cut up a large steel boiler. Every situation is different, so please call us to go over your project details first.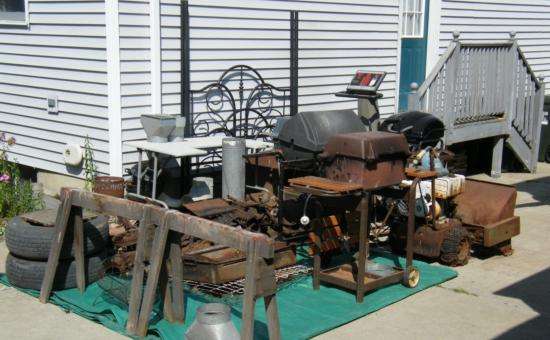 Click on the thumbnail images to see the larger version















Coupons & Specials
Scrapster, LLC Coupons & Specials
Free Scrap Metal Pick Up and Removal
Free Scrap Metal Pick Up and Removal-Please call us at (518) 505-5055 to schedule your appointment today!
Expires: No expiration Date
Code: Albany.com-1111

Call now (518) 505-5055 OR (518) 505-5055
Upcoming Events
No events listed for this business.
Is this your business? If so, login to add your events!
Directions & Map
Always get confirmation of the business location.