Times Union Center
51 South Pearl Street
Albany
,
NY
122071500
A multi-purpose facility with an adaptable seating capacity of 6,000 to 17,500. The Arena host a variety of events including concerts, family shows, sporting contest and trade shows.
History

Albany's Times Union Center, formerly Pepsi Arena, continues to have great success. Renamed in January 2007, the The Times Union Center is "Upstate New York's Premier Sports and Entertainment Facility."

Owned by Albany County and operated by SMG, the world's largest private management firm for public assembly facilities, the Times Union Center has an adaptable seating capacity between 6,000 and 17,500. Since Frank Sinatra christened the building on January 30, 1990, more than seven million patrons have walked through the turnstiles.

As a multi-purpose facility, the Times Union Center has hosted a variety of events, including concerts, family shows and sporting events, averaging 165 events each year.

In 2000, the Times Union Center Ranked 14th nationally in total concert attendance, higher than arenas in Philadelphia and other major markets. Times Union Center was named a Prime Site Award Winner by Facilities Magazine 9 times. (1999, 2002, 2004, 2007 - 2012)

Sell-out concerts at the Center have included, the Rolling Stones, Billy Joel, U2, Elton John, Neil Diamond, Frank Sinatra, Garth Brooks, Puff Daddy and the Family, Celine Dion, Shania Twain, The Dave Matthews Band, Phish, NSYNC, Backstreet Boys, Dixie Chicks, Britney Spears, Tina Turner, Tim McGraw and Faith Hill, Red Hot Chili Peppers, Eric Clapton, Bruce Springsteen, Rod Stewart and the Grateful Dead. Family shows have included Disney on Ice, the Harlem Globetrotters, Sesame Street Live, Barney's Big Surprise, Ringling Brothers Barnum & Bailey Circus and Nickelodeon's Live Tour.

In addition to being a regular Northeast concert stop, the Center has developed into a sports fan's dream. the Times Union Center is home to the Albany Devils of the American Hockey League and Siena Saints Division I College basketball team. Other sporting events entertaining fans of the Capital Region include the NBA Classic, the NHL Face-Off, high school basketball and the NYSPHAA High School state wrestling championships.

Times Union Center was a proud host of the NCAA Frozen Four in 2001, receiving kudos from NCAA executives for the hospitality shown to the participants and fans alike. The first ever FanFest was held in conjunction with the Frozen Four and will be incorporated into future festivities.

The Times Union Center is a regular host to premier NCAA events. In 1995, the Center hosted the first sold out NCAA Men's Basketball Championship East Regional First and Second Rounds in the nation. the Center hosted the NCAA Hockey National Championships in 1992 and the NCAA Hockey East Regional in 1994, 1996 and 1998. The Center looks forward to celebrating the new millennium with several NCAA events calling Times Union Center home. The NCAA Hockey East Regional returned in 2000 and college hockey's National Championship took place in 2001. The NCAA Wrestling National Championships visited Albany for the first time in 2002, and the NCAA Men's Basketball Championship East Regional took to the Center's hardcourt in 2003. In 2004, 2006 & 2008 the Center welcomed back the Division I NCAA men's hockey East regionals.

Times Union Center has developed a rich history of events over the past eleven years. Albany County, SMG and the Capital Region look forward to a future filled with the biggest names in sports and entertainment.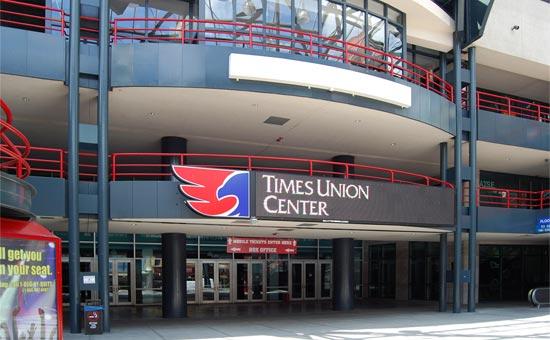 Click on the thumbnail images to see the larger version


Always get confirmation of the business location.
http://www.youtube.com/user/TheTUCenter
When: Today until Mon, Dec 30, 2013 at 7:00 PM
Where: Times Union Center, 51 South Pearl Street, Albany, NY 12207
The 2013-2014 Siena Men's basketball non-conference home games!
When: Sat, Dec 7, 2013 at 11:00 AM to 5:00 PM
Where: Times Union Center Exhibition Hall
Join us for this special event and fundraiser supporting the African American Cultural Center in Albany. There will be plenty of activities and giveaways, great vendors, children's entertainment and photos with Black Santa.
When: Fri, Jan 17, 2014 until Sat, Jan 18, 2014 at 7:30 PM
Where: Times Union Center, 51 South Pearl Street, Albany, NY 12207
Monster Jam starring the biggest performers on four wheels: Monster Jam trucks! The twelve-feet-tall, ten-thousand-pound machines will bring you to your feet, racing and ripping up a custom-designed track full of obstacles to soar over - OR smash through.