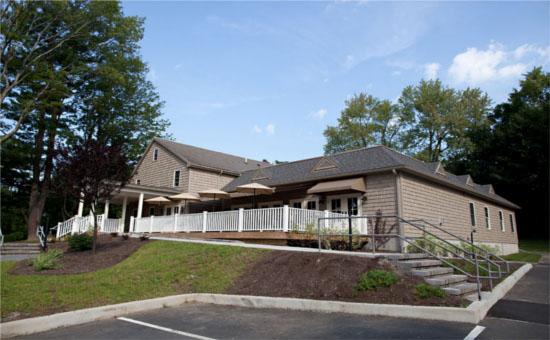 Scarborough's
497 Old Niskayuna Road
Latham
,
NY
12110
Scarboroughs Restaurant is the ultimate casual eatery featuring an eclectic menu consisting of sandwiches, burgers, salads, unique house specialities, as well as full dinners. We have a full bar, children's menu, outdoor patio, and two fireplaces.
The late 1970's in upstate New York... Bill and Pat Else spent their days and nights working at a small, but immensely popular tavern in Latham called Friar Tuck Pub. The idea was hatched to go into business for themselves. They purchased an equally popular, yet slightly larger tavern in Rotterdam called Cardinal Puff's Pub in the summer of 1982. They served drinks by the fistful, featured live music, and slowly expanded the menu. The neighborhood tavern began to transform from a bar into a restaurant.
By 1987 the transformation had become so apparent that the name was changed to Scarboroughs Restaurant & Tavern to better reflect the ambiance as well as the offerings. In 1996, the strip mall they were located in was torn down, and the plaza was expanded with the addition of several large chain anchor stores. They were moved to a different location within the plaza. Though this was a hectic time for Pat and Bill, it allowed them to build a new venue that could more adequately handle the direction they were looking to go. The kitchen and dining room were expanded, and overnight they turned their small tavern into a full blown restaurant.
Fast forward to 2006. The weekdays are spent serving the best grilled sandwiches in the area to a bustling lunch crowd and the weekends are spent serving dinners to a packed dining room. Having achieved their grandiose plan to turn Scarboroughs into a restaurant, Pat and Bill began their next venture: Owning their own building.

This is how Scarboroughs has come to find its new home on Old Niskayuna Road in Latham. The Else's found an old Shaker farmhouse that had a certain amount of history and character and charm that they deemed it worthy of being morphed into a restaurant. They kept the dining room and living room intact, and expanded into the backyard to build a fantastic 142 seat restaurant with two fireplaces and a large patio for outdoor dining. The venue is off the beaten path just enough to create a warming atmosphere but not too far to make it "out of the way". And of course, the food is still the focal point. The grilled sandwiches, the appetizers, the dinner menu, the house specialties, and of course, the legendary chicken wings.
The Else's would like to thank all of their loyal patrons, old and new, for their years of continued support, and they'd like to invite new customers to come and see what they've been perfecting since 1982.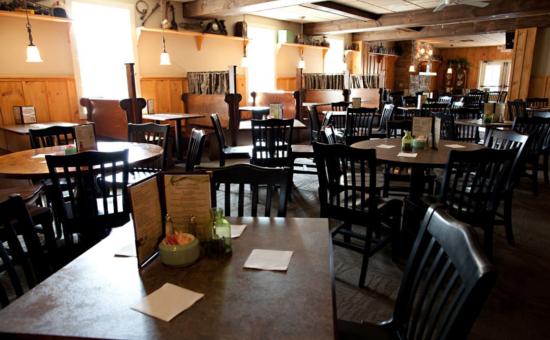 Click on the thumbnail images to see the larger version







Print More Information
Always get confirmation of the business location.
Lori
wrote on

Friday, March 09, 2012 at 5:36 PM
The most unpleasant dining experience I've ever had starting with the unfriendly, boarderline rude hostess. Two of my companions had the most dreadful tasting food ever. We don't think the beef in the burger could even be considered meat. The other had some bruschetta with chicken & sundried tomatoes. The bread was soaked through with some rancid tasting oil and there were so many tomatoes on it, that's all you could taste. Believing the manager would want our feed back, we requested to speak to him. The owner, some women, came to our table and was mean, defensive, demeaning and nasty. All she wanted to do was give us some coupon for a free dessert. We wouldn't go back there if the whole meal was free! Stay away!
NavyMomNY
from Latham, NY wrote on

Saturday, March 03, 2012 at 11:33 PM
The main reason we took another couple out to dinner there tonight was because we were given a generous gift certificate and I thought it would be nice check it out for the first time with friends. I tried making reservations, but Scarborough's requires a party of five or more for that. We arrived at 6pm on a Saturday night to a very full parking lot, hopeful that was a good sign. We were told there would be a 20 to 25 minute wait and proceeded to the bar area. I ordered a riesling wine which was served in a stemless glass (which is specific to red wines served at room temperature). Fifty minutes went by before we were seated. My husband ordered stuffed mushrooms specifically stating we were planning to share it as an appetizer. When delivered to the table included we were given no additional plates. Our waitress, although very nice, didn't give us her name until her third or fourth trip to our table until after our dinner was served. The server was different from our waitress and didn't wait around long enough for us to ask for additional needs. My husband I ordered the filet with a side of sauteed mushrooms. We were served steak with a very small amount of raw sliced muchrooms on top. It was satisfying (mainly because we were famished when we arrived), but we won't be back.
Kathy Wade
wrote on

Thursday, December 08, 2011 at 1:14 PM
I was very disappointed when I dined there Tuesday night. My server assured me there was no gluten in the rice pilaf but this was not true. I had asked him to let the chef know I needed to eat gluten free and thought he did so. Unfortunately I thought I saw barley and macaroni in the mix and sure enough it was there. I was violently ill before even getting out of the restaurant and have had episodes of diarrhea since then. Do not eat there if you have a gluten intolerance until they train their staff.
No events listed for this business.
Is this your business? If so, login to add your events!