PLEASE NOTE:
The information you are viewing for this event is from Saturday, Feb 26, 2022.
Please check back for updates.
6th Annual Downtown Schenectady Soup Stroll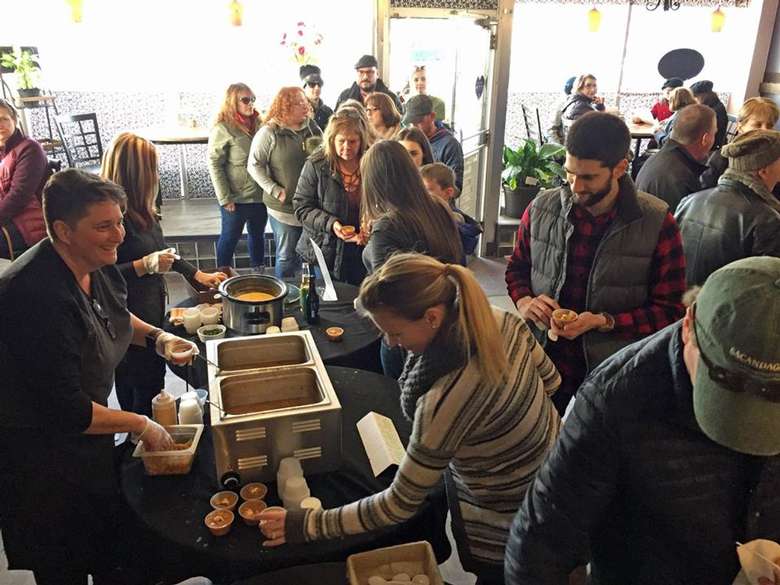 When:
Event has passed. Watch this page for updates.
---
Come downtown and enjoy 3oz of soup from a variety of our local restaurants, all for only $1 a sample! The 6th Annual Downtown Schenectady Soup Stroll will be held in downtown Schenectady on Saturday, February 26, from 11:00am-4:00pm.
This year, nearly 30 downtown restaurants will be participating in Soup Stroll! They are:
151 Bar & Restaurant | Chicken & Dumpling Soup
Annabel's Pizza Co. at Frog Alley | Kielbasa & Cabbage Soup | GF
Backstage Pub | Roasted Red Pepper Bisque with Grilled Cheese Crouton
Bombers Burrito Bar | Pollo Loco
Bountiful Bread on State | Tomato Pesto Bisque with Grilled Cheese Croutons | GF and Veg.
Bud's on Jay | Jerk Chicken Chili
Centre Street Pub | Reuben on Rails
Civitello's Italian Pastry Shoppe | Pasta Fagioli | Veg.
Cornells in Littly Italy | Toasted Pumpkin Pie Bisque | Veg.
Hunter's on Jay | Chicken Wing Chowder
Isopo's Downtown Pizza | Broccoli, Bacon, Beer Soup made with Mad Jack Beer
Johnny's Italian American Restaurant | Chicken Pot Pie Soup
Katie O'Byrne's Restaurant | Katie's Irish Chowder
Mad Jack Brewing Co. @ the Van Dyck | Beer Cheese Soup
Manhattan Exchange | Steak and Poblano Chowder with Tostones (Fried Plantains) | GF
Maria's Cafe & Catering | Gumbo
Mexican Radio Schenectady | Mexican Minestrone | Veg. and Vegan
MORE Perreca's Italian Kitchen | Zuppa di Pesce (Italian Fish Stew) | GF
Nico's Pizzeria | The Triple "C" Clam Chowder
Perreca's Bakery | Greens & Beans | GF, Veg. and Vegan
Pinhead Susan's | Traditional Irish Stew
Raw Juice & Smoothie Bar Inc. | Carrot Ginger Soup | GF and Vegan
Take Two Café | Cajun Street Corn Chowder | GF, Veg. and Vegan
Tara Kitchen | Creamy Mediterranean Polenta Pottage with Black Salt Seasoned Potato Sticks | GF
The DillyBean | Mexican Street Taco Soup | GF
The Nest Restaurant and Bar | Chicken and Biscuit Soup
The Union Inn | Hearty Beef Barley
True Juice Cafe | Chicken White Bean Chili | GF
Full Details: https://downtownschenectady.org/portfolio/downtown-schenectady-soup-stroll/
Photo provided by Schenectady Soup Stroll.
---
Event times and information subject to change and not guaranteed.