Learn About the MVP Arena in Albany, NY (Formerly the Times Union Center)
The MVP Arena (formerly the Times Union Center) is a popular sports and entertainment complex located in downtown Albany. Patrons come from the Capital Region, much of Upstate New York, and nearby Vermont and Massachusetts.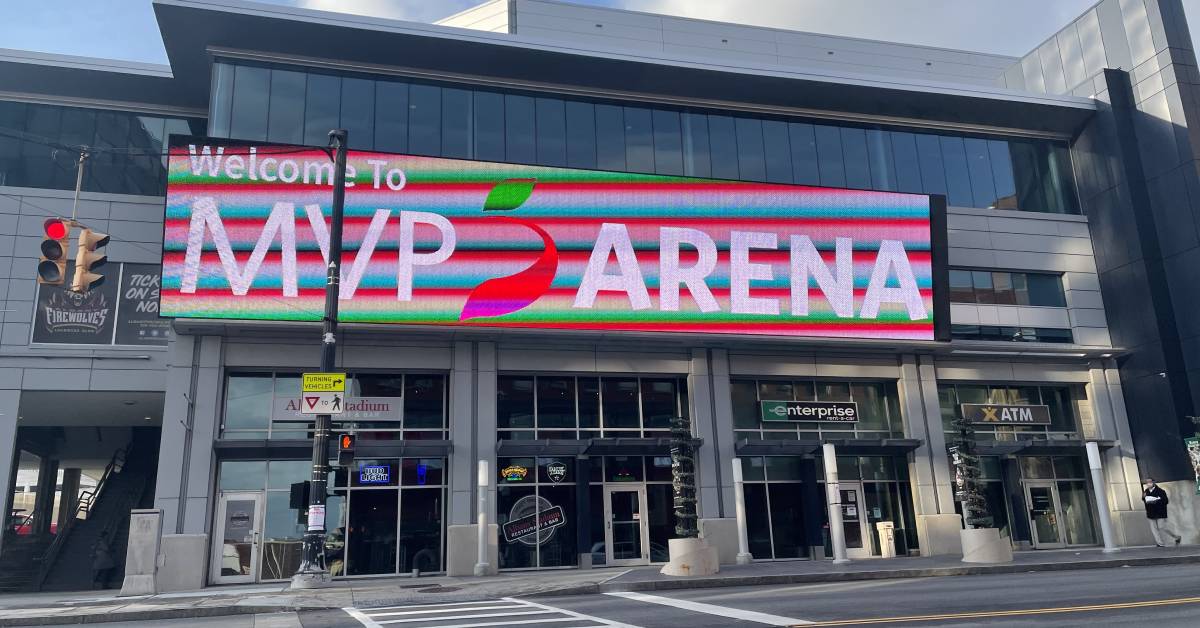 Enjoy Sports & Special Events at the MVP Arena
Home to local sports teams like the Albany Empire and the Siena Saints Men's Basketball team, the MVP Arena also boasts an impressive schedule of top performing artists, family shows, ice shows, and special events such as trade shows.
Concerts have included Billy Joel, U2, Elton John, Dixie Chicks, Britney Spears, Garth Brooks, Diddy, Celine Dion, The Dave Matthews Band, Phish, Bruce Springsteen, the Grateful Dead and many more. Some popular family shows have included Sesame Street Live, Disney on Ice, the Harlem Globetrotters, Nickelodeon's Live Tour and the Ringling Brothers Barnum & Bailey Circus.
Tickets for all events can be purchased at the MVP Arena's box office or on their website and via Ticketmaster. Seating charts can vary depending on the type of show and setup - the Arena's flexibility allows them to accommodate 6,000 to 17,500 seats, so it's a good idea to check the seating chart before you purchase.
History of the Venue
The Arena opened in 1990 under its original name, the Knickerbocker Arena, and was christened by none other than the first performer, Frank Sinatra, on January 30, 1990. In 1997, it was renamed the Pepsi Arena, and ten years later it became the Times Union Center in January 2007. Over the years, the facility has consistently drawn top notch entertainment and sporting events, and nearly 7 million patrons have walked through its doors.
In November 2021, it was announced that the venue's name would change from the Times Union Center to the MVP Arena, after MVP Healthcare purchased the arena naming rights for the future.
Detailed directions as well as parking information can be found by clicking here.
Great Places to Stay When Visiting the MVP Arena
Rather walk to and from the MVP Arena? Hilton Albany is in the heart of downtown Albany and only a short 5-10 minute walk away. They have spacious rooms and suites, and three on-site dining options.
Need more space for your family, friends, or pets? TownePlace Suites Albany Downtown is less than 10 minutes away by car and offers pet-friendly suites with one or two bedrooms and a complimentary breakfast.
A little further, but worth the trip, is Albany Marriott on Wolf Road. Located a short 20-minute drive away, its close proximity to Albany International Airport, I-87, and Wolf Road's many shopping and dining options (although it has its own on-site restaurant and martini bar) makes this a convenient place to stay overnight.
More Resources For the MVP Arena