CDPHP Cycle! - A Bike Sharing Program in Albany and the Capital Region
CDPHP Cycle! is a bike sharing program for Albany and the Capital Region. These smart bikes are available for rent and return at various locations. Register once and get access to CDPHP bikes whenever you need one.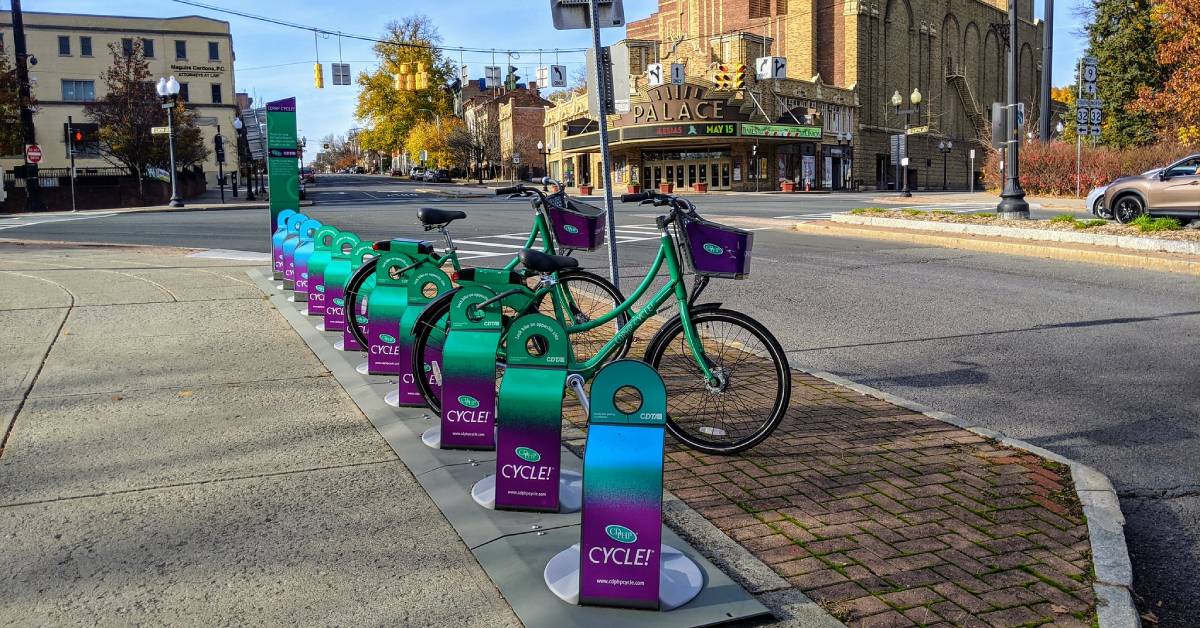 Go Green on Your Commute
Pick up a CDPHP Cycle! bike near home, ride to a station near work, check the bike in, and head into work knowing you arrived healthier (and greener) than when you left home.
Explore the City By Bike
Is this your first visit to Albany? Are you a local looking for a new way to see the city? The CDPHP Cycle! bike sharing program is the perfect, cost-effective way to navigate Albany and the surrounding area. Hop on and off at all the important sites in and around Albany for a fun and easy tour.
How Bike Sharing Works
The CDPHP Cycle! bikes are smart and fitted with GPS software that makes it easy to track your rides, share with friends, keep count of calories burned, calculate the distance traveled, and even estimate how your ride contributed to a reduction in carbon dioxide emissions.
To access a bike, simply download the app from cdphpcycle.com, register and choose a membership plan, and then find the nearest bike. If you prefer, you can also reserve a bike ahead of time on a computer, tablet, or smart phone. Release the lock with your app and you're ready to ride. After your ride, return the bike to any of the CDPHP Cycle! stations with an open spot.
There are over 400 bikes available at 80+ rack stations in Albany, Troy, Schenectady, Cohoes, and other communities. CDPHP Cycle! operates from May to November each season (approx.).
You can go to cdphpcycle.com to download the app and get ready to cycle. Below, we've highlighted where to find bike rack stations in the Capital Region.
Where the Bike Rental Locations Are:
Note: The following list of bike rental locations is updated as of 5/3/2022. Visit the CDPHP website for the latest updates and news.
In Albany
Empire Commons (Liberty Lane)
Collins Circle (Collins Circle)
Campus Center (Starbucks at UAlbany Campus Center)
CTDA 100 (110 Watervliet Avenue)
Honest Weight (100-120 Watervliet Avenue)
Buckingham Neighborhood (199 Colonial Avenue)
The Point (1119 Madison Avenue)
S Main and Whitehall Road (333 Whitehall Road)

Hackett Blvd and Pinewood (169 Hackett Blvd)
New Scotland and Holland (80 New Scotland Avenue)
Woodlawn Park (249-251 Woodlawn Avenue)
Swinburne Park (695 Clinton Avenue)
Livingston Park (401-423 3rd Street)
Central and Quail, WAMC (95-109 Quail Street)
Ontario Street and Madison Avenue (285 Ontario Street)
Western and North Lake (141 Western Avenue)
Washington Park (Madison Avenue and New Scotland Avenue)
Albany Medical Center (357 Myrtle Avenue)
Townsend Park (40 Central Avenue)
Clinton and Lark (270 Clinton Avenue)
Washington Ave and Lark, Washington Ave Library (161-195 Washington Avenue)
Madison and Lark (300 Lark Street)
Delaware and Elm (20 Delaware Avenue)
Holland and Delaware (175 Delaware Avenue)
Delaware and Hurlbut (Delaware Avenue)
North Pearl and 3rd St. (22 North Third Street)
Albany Mohawk Hudson Rail Trail (726 South Pearl Street)
S Pearl and Mt Hope Dr (624D South Pearl Street)
Howe Library (101-105 Schuyler Street)
MVP Arena (59-67 South Pearl Street)

Broadway and Hudson, SUNY Central (412 Broadway)
Maiden Lane Park (482 Broadway)
State & Eagle (De Witt Clinton Apartments)
Palace Theatre (10-16 Clinton Avenue)
Hudson Riverway Park - Corning Preserve (16112 Mohawk Hudson Hike Bike Trail)
Warehouse District (900 Broadway)
Trinity Place (Temp Hub - 26 Trinity Place)
Sage Campus (217 New Scotland Avenue)
State & Swan (81-89 South Swan Street)
Empire State Plaza (293-325 Madison Avenue)
Ganser-Smith Park (53 Menand Road)
Broadway Menands at Morgan Linen (145 Broadway)
TRU Hotel (798 Albany Shaker Road)

The Desmond Hotel (660 Albany Shaker Road)

In Watervliet
Hudson Shores Park (I-787)
Watervliet City Hall (1453 Broadway)
In Schenectady
Gateway Plaza / SCCC (53 Washington Avenue)
Riverside Park (132 North Ferry Street)
North College Street and Union Street
SCPL Central Library (99 Clinton Street)
Proctors (State Street and Jay Street)
Franklin Street and Lafayette Street (600 Franklin Street)
Crane and Francis (859 Crane Street)
Roger Hull and Park Place (215 Park Place)

Mohawk Harbor (221 Harborside Drive)
Albany Street and Hulett Street (314 Hulett Street)
Ellis/Sunnyview (25 Rosa Road)
Union Street and Dean Street
In Troy
South Troy (482 4th Street)
Adams Street and Franklin Street (Franklin Street)
Hill Street and Liberty Street (5-6-7 Hill Street)
The Ruck (Congress Street and 3rd Street, 101-105 3rd Street)
6th Avenue and Congress Street (1521-1599 6th Avenue)
Broadway and 5th (5th Avenue)
City Hall (431 River Street)

River Street and Vanderhyden Street (558 River Street)
15th Street at Beman Park (2178 15th Street)
15th and Sage (1782-1798 15th Street)
River Street and Ingalls Avenue (5th Avenue)
6th and Glen (3324 6th Avenue)
117th and 2nd Ave (632 2nd Avenue)

Sage Campus (65 1st Street)
In Cohoes
Delaware Trail/ 112th St Bridge (70 Delaware Avenue)
Van Schaick Park (187 Continental Avenue)
Remsen Street (179 Remsen Street)
Veterans Park (137 Johnston Ave)
Craner Park/Harmony Mills (150 North Mohawk Street)
Manor Ave Bike Trail (75 Manor Avenue)
In Saratoga
Caroline and Granger (263 Caroline Street)
Excelsior and Marion, The Hamlet (92 Excelsior Avenue)
Saratoga Hospital (35 Myrtle Street)
High Rock Park (79-99 High Rock Avenue)
Caroline and Pavilion (15-29 Caroline Street)
Division and Broadway (1-11 Division Street)
Broadway Visitors Center (Congress Street)
West Circular and Railroad Run
Railroad Run (Saratoga YMCA)
43-59 Roosevelt Drive (Saratoga Spa State Park)
Lincoln Baths (Saratoga Spa State Park)
Nelson Ave and Wright Street (101-115 Nelson Avenue)
Saratoga Race Course - Union and East Ave (289-297 East Avenue)
Geyser Road Park (10 Adams Road)
Saratoga Casino Hotel (342 Jefferson Street)
Saratoga Rail Station (26 Station Lane)
In Lake George / Glens Falls Area
Fort William Henry / Beach Road Steel Pier (58 Beach Road)
Warren County Bikeway - Country Club Road (23 Country Club Road)
The Queensbury Hotel at GF City Hall (42 Ridge Street)
Hudson Headwaters Hospital (14 Hudson Avenue)
Crandall Park (Fire Road)