2022 Easter Brunches, Dinners & More in Albany and the Capital Region
Find Restaurants Offering Dine-In & Takeout Specials
Easter 2022 is coming up, and to help everyone have a memorable Easter meal, local restaurants in Albany and the Capital Region will be offering dine-in specials and Easter meals to-go that you can enjoy at home. See below for who's offering what, and make sure to put in your orders as early as possible.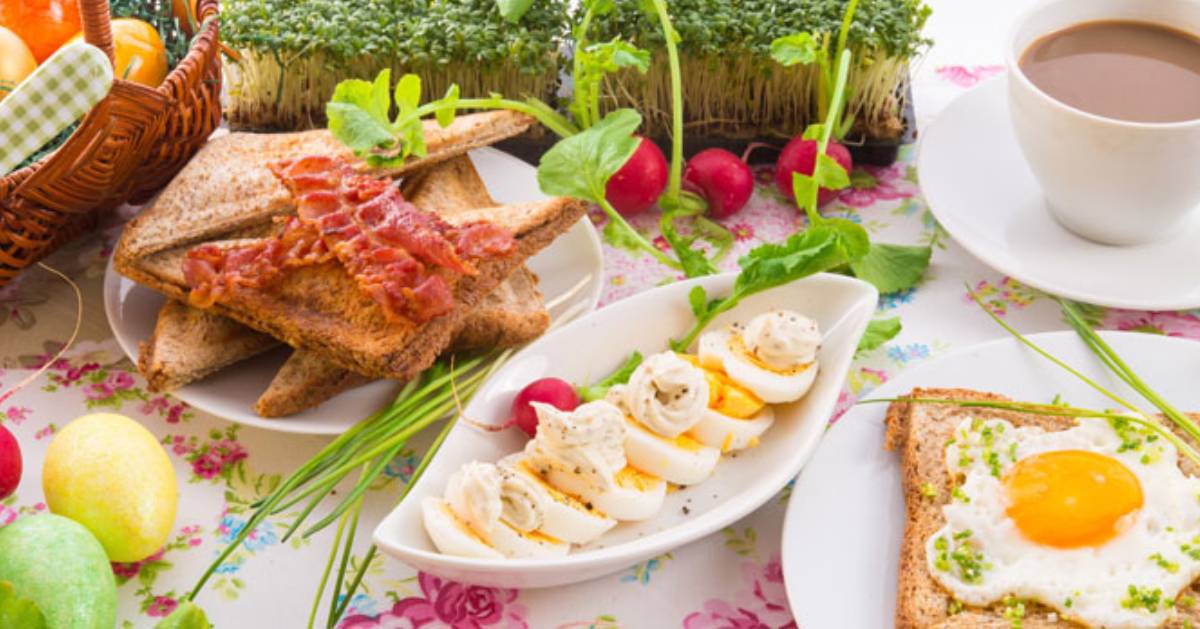 Please note that we are in the process of updating our page with 2022 dine-in and takeout specials for Easter. If you know of any, please send us a message with info and we'll be happy to add them to our page.
2022 Easter Dining Specials in the Albany Area
Barnsider Restaurant (Dine-In)
Offering: Regular menu plus a full ham dinner, with all the trimmings, while it lasts
Details: The Barnsider Restaurant in Albany will be open on Easter Sunday from 11:30am-7:00pm. A traditional ham dinner will be available, as well as their full dinner menu.
Phone: 518-869-2448

Mr. D's at Crowne Plaza Albany - The Desmond Hotel (Dine-In)
Offering: Four-course Easter dinner
Price: $46pp
Details: Crowne Plaza Albany - The Desmond Hotel's Easter dinner at the restaurant includes four courses, and reservations are available between 11:00am-4:00pm on April 17.
Phone: 518-640-6092
Note: Reservations are required, and the dinner is expected to sell out!
See More Great 2022 Easter Specials
Dinosaur Bar-B-Que (Takeout)
Offering: Easter packages for 4-6 people
Price: $110
Details: Pre-order a delicious Easter meal from Dinosaur Bar-B-Que in Troy! They are offering a ham brined pork shoulder Easter package with your choice of three sides, a pie, and mini potato rolls. Call early, quantity is limited! Pickup will be available on April 16 and 17.
Phone: 518-308-0401
Grandma Apple's Cheesecakes (Takeout)
Offering: Easter dessert orders due by April 6
Details: Looking for dessert for Easter? Check out the selection of handcrafted cheesecakes from Grandma Apple's Cheesecakes in Porter Corners.
Phone: 518-368-6091
Innovo Kitchen (Dine-In)
Offering: Easter brunch available for dine-in
Price: Varies
Details: Easter brunch will be held from 10:00am-3:00pm. Visit their website for the featured menu!
Phone: 518-608-1466
June Farms (Dine-In)
Offering: Easter Weekend celebration on April 16 & 17 featuring drinks, food, and festivities
Price: Ticket prices are $60/adult and $45/child under 21. Children ages 3 and under do not require a ticket; food is not included with their entry.
Details: Join June Farms in West Sand Lake for their very popular Easter celebration, which will be held on April 16 and 17. This is a three-hour event, and highlights will include an open bar with beer, wine, soda, juices, and coffee, Easter Brunch by Crafted Catering, photos with the Easter Bunny, an Easter egg hunt, and more.
Phone: 518-730-0330
Max410 at Van Schaick (Dine-In)
Offering: Easter brunch available for dine-in
Price: $30pp, $13 for kids 10 and under
Details: Join the restaurant for a delightful Easter brunch on April 17 from 10:00am-3:00pm. There will be a variety of appetizers and main courses to choose from, as well as a kids menu and dessert options. Reservations are required.
Phone: 518-328-0079
Tara Kitchen (Takeout)
Offering: Easter meal deal
Price: $70+ tax
Details: Tara Kitchen is offering Easter to-go meals that can feed 3 adults or 2 adults and 2 kids. Choose 1 dip, 2 tagines, and 1 side dish from the menu on their website. Pickup will be at the Troy or Schenectady location at 5pm on April 17.
Phone: 518-708-3485
The Century House (Dine-In & Takeout)
Offering: Easter dinner and complete meals to-go
Price: $59+ tax and gratuity for dine-in; to-go meals vary
Details: Check out The Century House's website for details on their Easter dining specials this year. Reservations are required for the three-course Easter Dinner at the restaurant. To-go meals must be ordered by April 12.
Phone: 518-888-7027
The Edison Club (Dine-In)
Offering: Easter brunch
Price: $55+ for adults, $20+ for kids ages 6-10, free for kids 5 and under
Details: The Edison Club in Rexford is accepting reservations for Easter Brunch on Sunday, April 17. Seatings will be at 10:00am and 1:00pm, and the deadline to make a reservation is April 10. The menu includes "Create Your Own Belgian Waffle" options, Stationary Displays (classic deviled eggs, fresh fruit salad, biscuits with sausage gravy, roast leg of lamb, and more).
Phone: 518-399-2393
The Nest 518 (Dine-In)
Offering: Easter brunch for adults and kids
Price: $38 per adult, $18 for kids under 10
Details: Don't miss out on Easter brunch at The Nest 518 in Schenectady! Featuring a prix fixe menu, brunch will include options like biscuits and gravy, avocado toast, chicken and waffle, lamb hash, shrimp and grits, and more. Each child under 10 will receive a small Easter basket.
Phone: 518-672-3018
The Nines at Western Turnpike (Dine-In)
Offering: Easter brunch
Price: $16.95 for adults, $10 for kids 6-12, free for kids 5 and under
Details: Easter brunch will be held from 11:00am-4:00pm on April 17, and it will include cold cereal, frittata, roasted potatoes, breakfast sausage, French toast bake, lamb, ham, garlic green beans, potatoes au gratin, and much more.
Phone: 518-608-1025
The Point Kitchen & Cocktails (Dine-In)
Offering: Easter brunch for adults and kids
Price: $38 per adult, $18 for kids ages 4-10
Details: Call to make your reservation for Easter brunch at The Point Kitchen & Cocktails in Albany on April 17. Enjoy a traditional buffet, a specialty buffet, a pizza station, salads, and sweets.
Phone: 518-729-5383
The Waters Edge Lighthouse (Dine-In & Takeout)
Offering: Easter brunch from 11:00am-4:30pm on April 17, and Easter Family "To Go" Dinner Packages
Price: Prices vary for the brunch; the family-style dinner costs $180 for the prime rib dinner or $140 for the smoked ham dinner
Details: Easter brunch will be held from 11:00am-4:30pm at the restaurant on April 17, and reservations are highly suggested. Brunch will feature various specials and the regular menu. The family-style takeout dinner must be pre-ordered by April 13 at 2:00pm.
Phone: 518-370-5300