Choosing Nursing Homes in Albany, NY and the Capital Region
Sometimes the need for nursing home care comes unexpectedly. Other times, moving to a nursing home is the natural next step for an aging senior whose need for constant care and assistance has been increasing progressively. Choosing an appropriate nursing home facility can be challenging. It's important to thoroughly understand the options available before selecting a facility and relocating a loved one.
What Kind of Care Do Nursing Homes Provide?
Nursing home care offerings vary by facility. Typically, facilities either offer intermediate care or skilled care. Intermediate care is typically appropriate for individuals who have physical and/or memory impairments and may require either total or partial assistance with day-to-day activities like dressing, maintaining personal hygiene, and eating. Skilled care is more intensive and is most appropriate for individuals requiring physical, occupational, or speech therapy, or recovering from a recent injury, illness, or hospital stay.
No matter which level of care is provided, nursing homes usually provide room and board, 24 hour assistance and emergency care (if needed), monitoring and administration of medications, assistance with personal care, and interactive activities and events for residents.
How Do I Select the Right Nursing Home?
There are a number of important elements to explore when reviewing your nursing home facility options. Firstly, consider what level of care is most appropriate. You'll want to be sure any facilities you actively investigate provide the correct level of care. You should also consider location to be sure the facility is convenient for those who will be frequent visitors.
Additionally, consider any costs that may be associated with the care provided. You want to make sure the options you choose to explore more thoroughly won't put you in a precarious situation financially.
Once you've chosen appropriate nursing homes to consider, the best way to select the right nursing home for you or a loved one is to visit them. Be sure to visit a few facilities so you are able to compare and contrast them. Observe the activities that are going on, taste the food, and interact with the residents. Visit more than once, and visit at least once unexpectedly, to be sure you catch a glimpse of the typical atmosphere at the nursing home when guests aren't anticipated.
Be sure to ask a lot of questions during your visits. Here are some key questions to get you started:
Nursing Home Facility
What level of care is provided? Are medical check-ups regularly provided for residents?
Are facility licensing requirements met?
Are staff licensing requirements met?
What are the visiting hours?
How are medical emergencies handled?
Is the facility clean and safe? Is there good natural lighting? Is it a comfortable temperature?
Are doorways wide enough to accommodate wheelchairs and walkers? Are handrails accessible?
Is the facility floorplan easy to navigate?
Are the room features adequate?
Admission and Fees
Is there a waiting list or can I (or my loved one) move in immediately?
Are there any admission requirements that I should be aware of?
What are the billing and payment policies and rates?
Do costs vary based on services provided? Are there additional costs for some services?
What insurances and governmental financing options (i.e. Medicare, Medicaid, etc) are accepted?
Residents and Staff
Do the residents seem happy and well cared for?
Do the staff members seem to genuinely care?
Are staff members attentive and approachable?
Is there an appropriate staff-to-resident ratio?
Daily Life
What kinds of social and recreational activities are available for residents?
Does the food look and smell appetizing? How does it taste? Are specific food requests accommodated?
Are the common areas comfortable and spacious?
Are bathrooms easily accessible?
There are a number of nursing home facilities located throughout the Capital Region. These facilities offer numerous amenities and a variety of levels of care, and many are conveniently located near hospitals and healthcare facilities. With so many options, you're sure to find a nursing home facility appropriate for you or your loved one.
Browse Albany and Capital Region Nursing Homes Below: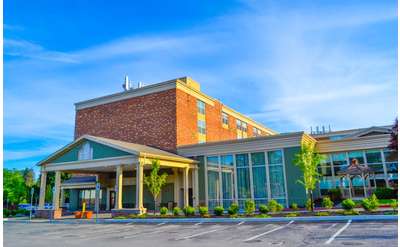 The Promenade at University Place
The Promenade at University Place is the prime senior living community for those who wish to engage in an active lifestyle with all the comforts of home. They provide enhanced personal care services, stylish private suites, and top notch amenities.
Baptist Health System
Baptist Health System offers a variety of services to help those needing short- and long-term care. In addition to its nursing and rehabilitation center, it also has an assisted living community nearby.
Eddy Heritage House Nursing & Rehabilitation Center
Eddy Heritage House Nursing & Rehabilitation Center is a long-term care residence that offers skilled nursing, short-term rehabilitation, and respite care. The warm, friendly environment helps residents feel comfortable and at home.
Eddy Memorial Geriatric Center
Eddy Memorial Geriatric Center provides care for those with Alzheimer's disease and other varieties of memory loss. The goal of the center is to offer residents the best possible quality of life.
Eddy Village Green at Cohoes
Eddy Village Green at Cohoes was designed after the Green House model, meaning it's comprised of 16 ranch-style homes instead of one large medical-style building. Staff members treat residents like family and provide regular care and support.
« Back to the Albany Senior Living Guide