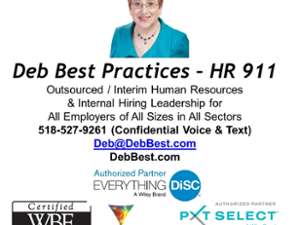 Albany, NY
Need help with complex employee issues, COVID compliance, or other HR related needs for your business? Debra J. M. Best, SPHR, SHR...
[+More]
Gansevoort, NY
At Saratoga Human Resources Solutions, our Human Resources Consulting Services Practice is designed to offer a broad range of cust...
[+More]
Troy, NY
Hornby Zeller Associates uses its rigorous analytical processes to answer questions posed by government and non-profit agencies. T...
[+More]
Tech Valley Connect is designed to provide concentrated assistance to relocating professionals and their families in the Capital R...
[+More]
Albany, NY
Capital EAP offers an array of services for both individuals and businesses ranging from counseling and support to HR and supervis...
[+More]
Latham, NY
Offering payroll, HR software, and human capital management services in the Capital Region, ADP has the solution for your business...
[+More]
East Greenbush, NY
For small and medium-sized businesses in the Capital Region, Fair Winds Strategies offers a variety of consulting services ranging...
[+More]
Albany, NY
Nicholas J. Marino & Co. offers employee benefit programs to both private and public businesses, and also counsels employers and e...
[+More]