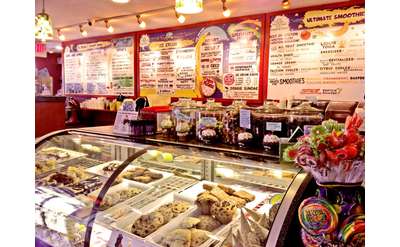 Emack & Bolio's
Albany, NY
Emack & Bolio's is a local ice cream parlor and coffee shop in Albany, NY. They offer an amazing selection of ice cream, smoothies, chocolates, freshly brewed coffee, espresso, pastries, gifts, live music, and more.
Ambition Coffee & Eatery, Inc.
Schenectady, NY
Ambition Coffee & Eatery, Inc. in Schenectady, NY is a funky urban bistro that's a top spot for breakfast, brunch, lunch, and dinner before you attend a live show at nearby Proctors.
Stacks Espresso Bar (Lark)
Albany, NY
Stacks Espresso Bar on Lark Street in Albany, NY, is a local cafe and community space where you can find great coffee and good company. Get your caffeine fix and enjoy some excellent food too.